AWeber Black Friday 2021 deal will be live soon. So what are you waiting for?
Black Friday and Cyber Monday are the times when companies offer insane discounts on their products. Be it a big name or a small company, everyone puts forward amazing offers. The Black Friday sale begins during Thanksgiving and is undoubtedly a festive sale.
AWeber offers many features that set it apart from the competition. It is a simple email marketing tool designed to help your small business grow. The exceptional features of AWeber will simplify email marketing for you and make it fun. In other words, you have to give less time to marketing campaigns.
Here we have gathered all the information you might need if you wish to grab the stunning offer. So fire up your gears for the AWeber Black Friday & Cyber Monday 2021 deals. 
HIGHLIGHTS

 

OF THE DEAL
AWeber Black Friday Offer: 25% OFF on all plans
Start Date: 20 Nov 2021
End Date: 30 Nov 2021
AWeber Black Friday Deal
AWeber is offering 25% OFF on all plans for Black Friday & Cyber Monday deals. The marketing tool helps create visually stunning landing pages that get your business online quickly. So if you wish to give your business the best but don't want to stray off your budget, this is your opportunity.
AWeber allows you to create a mailing list, design newsletters, automate your email marketing, and view and analyze statistics related to your email marketing campaigns. The marketing tool is one of the most reliable in the marketing industry.
This Black Friday deal will be valid from 20 November to 30 November 2021. So grab the stunning offer without further delay.
How To Grab The Black Friday Deal?
AWeber is not known for huge sales. But this year the company has put forward this amazing offer for its users. So why not take advantage of the 25% discount!
The following steps will guide you on how to grab the best deal to save maximum.
Visit the official AWeber site.

Choose your preferred plan based on the number of subscribers.

Sign up to apply the coupon automatically

Make the payment and the offer is yours.
AWeber Pricing and Plans
AWeber offers two plans, Free and Pro.
The Pro Plan allows you all the essential features you require from a marketing tool. Create and send newsletters with dynamic content easily. However, AWeber pricing depends upon the number of subscribers you have.
| | | | |
| --- | --- | --- | --- |
| Subscriber Count | Monthly Billing Cycle | Quarterly Billing Cycle | Yearly Billing Cycle |
| 0-500 | $19 | $49 | $193.80 |
| 501-2,500 | $29 | $79 | $313.80 |
| 2,501–5,000 | $49 | $139 | $553.80 |
| 5,001–10,000 | $69 | $199 | $793.80  |
| 10,001–25,000 | $149 | $439 | $1,753.80 |
AWeber PRO Plan comes with many benefits. You get access to:
Email automation

RSS to email

Drag-and-drop email builder

100s of email templates

HTML emails

AMP emails

Thousands of professional images

Email Split testing

Behavioral automation
In addition, AWeber gives you many features to collect and analyze useful data such as
Simple subscriber and message analytics

Advanced message analytics

Advanced audience/account analytics

Webpage tracking

Tagging subscribers
AWeber also assists you in engaging more people. You get the following features to get this work done.
Sign up forms

WordPress plugin

Sign up form split testing

Unlimited landing pages

Video landing pages

Google Analytics and Facebook pixel tracking

Custom URLs
AWeber received lots of user comments asking for a free plan. So the marketing too recently came up with  AWeber's new free trial. You get stunning features including Email marketing, Automations, Landing pages, Sign up forms, Integrations, and 24/7 Customer Solutions.
For more information read our AWeber review.
Reasons to Grab the Deal
AWeber offers complete account migration at no cost. It can transfer subscribers tags, templates, sign up forms, campaigns, landing pages, and more. The marketing tool also lets you use web fonts. This feature is alone a big reason to grab the AWeber Black Friday 2021 deal. 
1. Automatically create amazing-looking Emails and Landing pages
AWeber gives you the feature of an AI-powered design assistant. It automatically builds your amazing-looking branded email templates in seconds. Not only that, but you also don't have to get involved in the hassle of coding for email and landing pages.
The AWeber Landing Page Designer creates speckless landing pages in the blink of an eye. You can also create custom emails instantly with the Drag & Drop Email feature. And all that without ever writing a line of code.
AWeber has a vast library of pre-built email templates. This ensures smooth running of your operations.
2. Automate your emails and campaigns
AWeber gives you the feature of built-in campaigns. It enables automated email sending and personalization. Campaign Automations ensure timely delivery of emails. You can assign triggers and flows to your emails for this purpose.
Spamming everyone on your list can cause harm to your business. AWeber tags the people in your lists. This helps in identifying the right audiences and targeting specific emails. 
AWeber lets you import high performing pre-built campaigns into your account. Thus you can freely use automation for your marketing tactics. It also ensures that the right people are receiving your content. Direct campaigning using tagging and dynamic content ensures faster responses.
3. Keeping track with pre-built reports
AWeber has pre-built practice designed dashboards and reports. This provides a simple but meaningful insight into email and campaign performance. You need not be a master of statistics to understand the data.
The reports contain key performance indicators (KPIs) that anyone can interpret. You can optimize your efforts with integrated split testing. Find what works best for your business with AWeber by testing different subject lines and messages.
4. Widen your reach
Subscriber Management is AWeber's cup of tea. It allows you to manage the people on your lists and categorize them. You also get the feature of Quick Segmentation and Targeting with AWeber. This makes it easier for you to send targeted emails.
The lists simplify your work and save a lot of time. AWeber also offers free expert migration. You can get all of your content, whether it be List creation & tag application or landing pages over in less than a week.
5. Mobile-Friendly Apps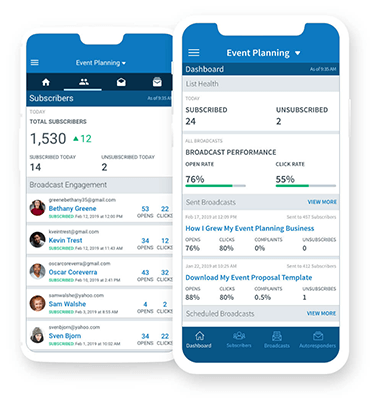 You can operate your business with AWeber on the go. The marketing tool is mobile friendly. It even offers some mobile apps to make your work easy.
AWeber Stats lets you analyze your results on your mobile phones. In addition, you can even create stunning, browser-ready mobile-responsive sign-up forms in just seconds. AWeber Atom app creates a sign-up form on your mobile device. Moreover, you can form your lists on the move by adding new people to your mailing list.
Newsletters are an efficient marketing technique these days. AWeber has a mobile app for that too. With Curate you can create and send amazing-looking newsletters from your mobile device using content from your blog and website. And that too in the blink of an eye.
HURRY! Don't Miss out On The Deal
It's not every day that AWeber offers such discounts. The email marketing tool has an excellent reputation in the market. Therefore, the 25% discount makes this software closer to your budget.
The mobile-friendly apps give AWeber an edge over the other marketing tools. Further, AWeber lets you incorporate the latest email technology. This way you can increase interactions to your messages directly inside people's inboxes. In short, Campaign sending saves you a lot of time by automating your email marketing efforts.
AWeber offers plans at reasonable prices. So the Black Friday deal makes the prices even cheaper. Grab this once in a lifetime opportunity. In conclusion, the AWeber Black Friday deal won't come again.
For more Black Friday offers click here.