If you are thinking of starting an eCommerce site, a blog, or a company website, the first thing you'll need after getting a domain is web hosting.
With numerous web hosting companies in the market, it becomes tough to figure out which is the best and some are just here to cheat you out of money.
In this article, I will be telling you about the best web hosting companies in India and the features that make them stand out.
So read on to find out more.
What is Web Hosting?
The most important stage of building a website is getting good web hosting. It is a service that ensures that your website can be accessed by others. So, invest in a good web hosting provider as it is something that can make or break your website's growth.
There are 3 major categories of web hosting- dedicated server, VPS, and shared web hosting. You can go for any of these depending upon your website's requirements.
If you are a beginner who has just decided on launching a website and don't expect a lot of traffic on it, you may go for shared hosting.
A Virtual Private Server is an upgrade from shared hosting and offers extra resources required for a site that is growing on an affordable budget.
Organizations that require abundant resources and cannot afford to share the server space and IP with others use generally a dedicated server. It is the best option for those companies that manage large-scale businesses and collect sensitive data from their customers.
7 Best Web Hosting Companies In India
A good web hosting company will offer quality resources, dedicated customer support, optimal security, and high uptime to ensure that your website never goes down and you only incur profits.
So, here are some best web hosting companies in India that you can choose from to host your website. These companies offer affordability along with quality web hosting services.
Let's take a look.
1. YouStable
One of the best web hosting companies in India, YouStable offers premium services along with cheap web hosting in India.
Famous for its blazing-fast NVMe SSD servers, they also offer the best technical support service in the hosting industry.
However, what makes them the best is that they are continuously working on improving the services based on customer requirements. I'll quickly share the top features of the YouStable web hosting service.
Features:
99.95% uptime
Free Domain
Free CDN
Free SSL Certificates
LiteSpeed Servers
Free website migration
AMD powered processors
Easy to use control panel
Daily Support
24/7 bilingual customer support
Plans:
YouStable offers 3 cheap web hosting plans that are categorized into DAStart, DAProfessional and DAElite.
DAStart is available at a discounted rate of 1.2$ per month.
DAProfessional web hosting service costs a minimal cost of 1.8 $ per month.
For DAElite hosting plan, a user has to pay 2.75$ per month.
Pros:
YouStable provides fast and affordable services.
Free Domain with their hosting plan.
Daily data backup
24/7 live customer support is its usp.
Offers bilingual support- English, and Hindi.
It also provides a 30-day money-back guarantee facility.
Cons:
International call support is not available.
2. InterServer

InterServer offers quality web hosting services to its users. A little pricey but with great customer support and web hosting resources, Interserver is also an amazing choice if you are looking for the best web hosting company in India.
With the motto of offering the best services to its customers, InterServer works endlessly to ensure that the customers do not experience any inconvenience while using their web hosting service.
Below you'll find out the features that InterServer offers as a great web host.
Features:
Free site migration facility
Free backups
99.99% uptime guarantee
24/7 Live Support
Easy to use control panel
Weekly backups
Cloud Linux OS
Free CDN
Free LiteSpeed Servers
Plans:
The cheapest web hosting that InterServer offers costs around $2.5/mo with multiple premium features and 24/7 customer support.
Pros:
Free Website migration
Free SSL certificate to ensure security
24/7 customer support
High Uptime Guarantee
Cons:
Paid Domain transfer and registration
A little costly.
Customer support lacks consistency.
3. A2 Hosting
A2hosting is a great web hosting provider that offers hosting services in India. It has a lot to offer however choosing the best plan from A2hosting can be tricky.
They are a very popular name in the hosting industry, a great attraction for customers who want to start building their websites.
But Before you go and buy their hosting services, go through their features, prices, and pros and cons mentioned below.
Features:
99.9% uptime guarantee
Free website migration
Choice of data-centre
Easy to use control panel
Free Site Migration
Free SSL certificate
24/7 customer support
Free website builder
Plans
The StartUp plan costs $2.99 at a discounted rate.
The Drive Plan offers premium facilities at $5.99 per month.
TurboBoost business plan costs a sum of $6.99/mo
And TurboMax hosting plan that offers the maximum shared hosting features costs $12.99 per month.
Pros:
Services available worldwide.
It offers multiple SSL certificate options
Free website migration
Anytime money-back guarantee
24/7 Server Monitoring
Reliable uptime guarantee
Cons:
A little pricey considering the many restrictions on resources.
Significantly high renewal rates
Paid Domain transfer and registration
4. BlueHost

BlueHost offers safe and reliable options for people who want to create a blog without getting caught up with technical details.
It offers a wide variety of product offerings ranging from shared hosting to cPanel hosting based on resource configurations.
Again, a popular name in the market, people tend to choose a name they've heard about. However, that is not the best strategy.
Let's discuss the features, the pros, and the cons along with the prices of BlueHost web hosting.
Features:
User-friendly dashboard.
Free Domain for the first year
Free SSL
Free CDN
24/7 customer support
Free site migration
Free drag and drop builder
SSD Storage
US data center
Plans:
The Basic plan costs $2.95/mo with limited features.
The Plus plan that has been configured for those running multiple sites costs $5.45/mo.
For added privacy and security features, BlueHost has designed the Choice Plus plan that also costs $5.45/mo.
The Pro plan that offers optimised CPU resources costs $13.95.
Pros:
Free Domain
24/7 customer support
Beginner-friendly
Free SSL certificate
High uptime guarantee
Free site migration
Cons:
5. Hostinger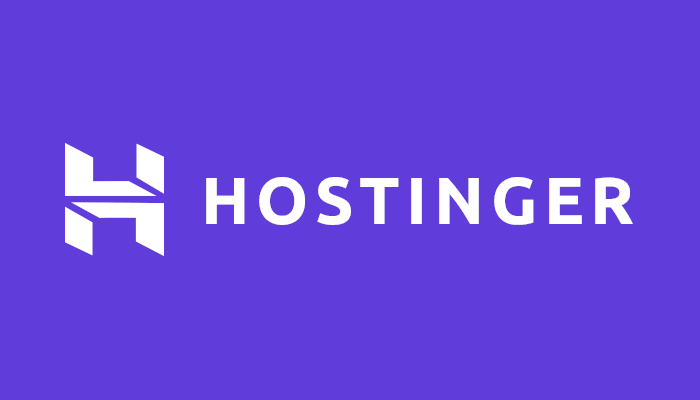 If you are just testing out your projects, you can go for Hostinger web hosting plans. As with others, it offers a varied range of hosting configurations depending on the server requirements by users.
Good for beginners as well experienced website builders, Hostinger offers great customer support and high uptime.
Features:
Free SSL
Managed WordPress
WordPress Acceleration
30 day Money Back guarantee
Weekly backups
24/7 customer service
DNS management
Cloudflare protected servers
Plans:
The single shared hosting plan starts at $1.39/mo ideal for beginners
Premium Shared Hosting plans start at $2.59/mo best for personal websites
Business Shared Hosting plans with resources optimised for small startups start at $3.99/mo
Its cheapest plan starts at $0.93 per month after a discount, where a user gets one website to host for free.
Pros:
Affordable plans
24/7 customer support
It provides a 30-day money-back guarantee.
It provides a drag and drops builder facility with accessible template building.
Cons:
Paid Domain
A daily backup facility is not available.
Renews at almost double rates.
6. TMDHosting
If you are looking for a web host that offers budget-friendly and versatile hosting with powerful servers for Linux and Windows, you can check out the TMDHosting services.
With a simple and easy-to-use dashboard interface, the hosting service becomes easy to manage.
Features:
Free Let's Encrypt SSL Certificate
Free Domain
Free Website Builder
Basic Caching
Free cPanel control panel
60-day money-back guarantee
Daily backup
24/7 customer service
99.9% uptime guarantee
Free site migration
Plans:
The minimum price to start with TMDHosting company is $2.95 per month, which is a normal service.
According to the latest updates, the maximum price plan is named dedicated server, which costs $79.97.
Pros:
Daily data backup
Provides a 60-day money-back guarantee.
Free Domain
Free SSL
Free site migration
Multiple data centres
Fast site loading speed
Powerful servers
Cons:
High Renewal Rates
Poor response time
7. WPXHosting
If you do not consider spending a little extra to be an issue and want to host a WordPress site, then WPXHosting is a superb choice for you.
They offer amazing service with high loading speed, powerful servers, and easy-to-use hosting solutions. They have data center locations In USA, UK & Australia.
Features:
Free Malware Removal
30-sec Average Support Response
Free Fixes If Site Offline
Free Site Speed Optimization
30-day Money-Back Guarantee
99.95% Uptime
High-Speed Custom CDN
Superfast SSD Storage
Unlimited Site Migrations To WPX
Unlimited SSL Certificates
DDoS Protection
28 Days Automatic Backups
Staging Area
Plans:
The minimum price for a Business WordPress Hosting plan starts at $8.75.
The premium facility starts at $34.65 for the first month.
Pros:
Free DDoS protection
High-Speed CDN
Free Site Migration
SSD storage
High uptime guarantee
30-days money-back guarantee
Cons:
No free domain
Costly compared to other web hosts in India
Offers monthly backup and not daily/weekly.
Why Choose Best Web Hosting Providers?
The web hosting companies mentioned above were shortlisted on many factors- affordability, CPU resources, customer service, security, reliability, uptime guarantee, and customer service.
Let's talk about these benefits in brief.
Affordability– These 7 Best Web hosting companies in India offer affordable solutions for anyone who is just starting out. Be it a student or a new entrepreneur, if you are looking for cheap web hosting companies, then the listed hosts are the best choice for you.
CPU resources– These companies, along with budget-friendly web hosting offer customized CPU resources like RAM, bandwidth, disk space for a new website. You can even choose a plan with a high resource configuration depending upon your website requirements.
Customer service– The above web hosting companies offer the best customer support service that is generally live 24/7. Some offer multi-lingual support whereas some only offer support in a single language. However, all of them offer great technical assistance with their hosting service.
Security– All the shortlisted web hosting providers offer a Free SSL certificate to ensure that your site offers security to your customers which is always a plus point.
Reliability– They offer reliable hosting solutions with customized resources and customer service to ensure that your site never goes down and your customers can access the website anytime they need.
Uptime guarantee– Uptime is a very important factor when choosing a web hosting company for your website. These companies offer the best uptime guarantee rate keeping your site live 24/7.
Conclusion
Many web hosting companies are available on the internet, but selecting the right one at the right time can be daunting.
The aforementioned companies offer cheap web hosting services with quality resources and premium features.
If you are looking for an affordable web hosting solution that offers speed, powerful servers, quality services along with good customer support, reliable hosting, and security to your websites, you can go for YouStable or InterServer.
They also offer advanced features that other web hosting companies in India don't.
Feel free to ask by writing in the comment section, if you still have doubts or new suggestions about the best web hosting companies in India.