This is the perfect time to grab one of the Black Friday deals for designers.
Not aware of the options and deals? Don't worry! We have done the hard work for you.
Just go through the list and discover massive discounts on reputed names. But before that let us give you a rundown of how it works.
Black Friday, the first Friday after Thanksgiving is the onset of an exciting shopping season. From big brands to small companies, whether online or offline, offer their biggest discounts. The sale continues till Cyber Monday that follows Black Friday on the first Monday after Thanksgiving.
How can Black Friday 2021 benefit you?
Whether you are a newbie or a professional designer, Black Friday is the perfect time to get the best deals at a bargain.
The designer courses you needed, the tools you coveted; you can get any of that at amazingly low prices. The new customers benefit a lot as well as the old customers too can get addons at relatively cheaper prices.
Get this; companies normally offer discounts on their plans. During Black Friday, these offers are almost doubled. See the massive opportunity it is for the buyers!
Take a look at the best 10 Black Friday deals for designers-
Best Black Friday Deals for Designers
Adobe Creative Cloud [LIVE]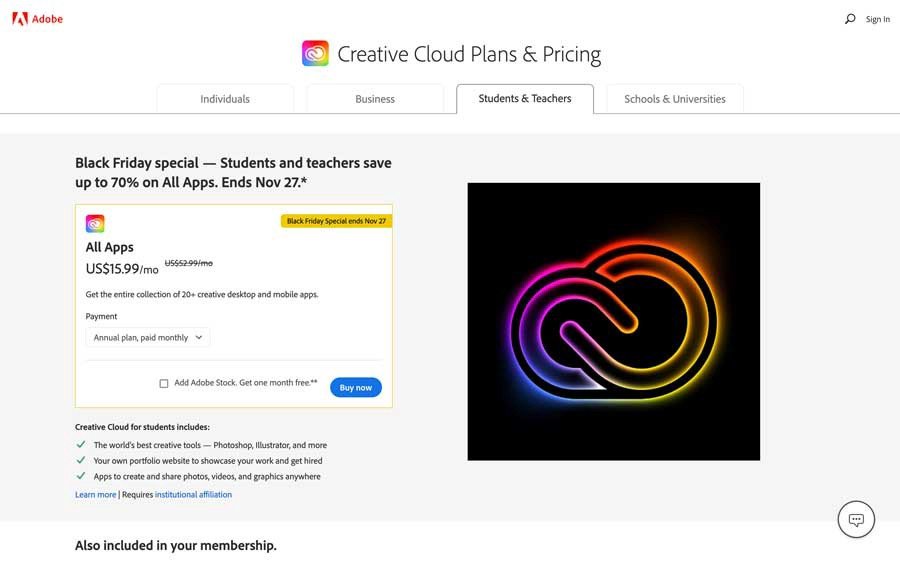 OFFER: 40% OFF
OFFER VALIDITY: Until 26 Nov
Creative Cloud has over 20+ desktop and mobile apps including Photoshop, InDesign, and Premiere Rush. In addition, you can access thousands of fonts for your projects right within your Creative Cloud apps.
So, you can explore your creativity and showcase your work.
Creative Cloud Libraries allow you to save, browse, and share assets from Libraries right inside your Creative Cloud apps. You can even create and customize your own portfolio website.
Adobe Creative Cloud offers 100 GB of cloud storage for file sharing and collaboration. Be it any file type, you can store it in Creative Cloud.
You can get a membership at a discounted price of $39.99/mo only. Adobe offers students 60% off the regular price for the first year. But during Black Friday they can grab the membership at 70% off.
Iconscout [LIVE]
At Iconscout, They are providing a 50% discount on our annual subscription plans. They provide icons, illustrations, 3D Assets, and Lottie animations on our website as well as our Apps and Plugins. Their primary aim is to focus on quality rather than quantity. They have a huge collection of 2 Million+ design assets on our website. We add almost 5000+ new assets every day.
Subscription plans
All vectors: $99/year (usually $199)
Unlimited icons download
5 downloads a day (illustrations)
All Access: $199/year (usually $399)
Unlimited icons download
10 downloads a day (illustrations / 3D / Lottie animations)
Udemy
OFFER: 90% OFF
Offer Validity: Through Nov 27
Udemy offers over 130,000 online courses. That means not only you get a heavy discount on designing courses, but can also avail of any course at a dirt-cheap price.
You can learn the basics under the guidance of the top instructors at your own pace and schedule. The learning becomes easier with video courses.
During the festive sale, you can avail a course at a nominal price of $10. This makes Udemy one of the best Black Friday deals for designers.
Smartmockups [LIVE]
OFFER: 30% OFF
OFFER VALIDITY: Until Nov 30
With Smartmockups you can create stunning product mockups and increase your sales and attract clients. You get to create professional mockups right inside your browser, even on the go.
Don't know how to use Photoshop? Smartmockups has your back. It enables you to create high-resolution mockups right inside your browser within one interface across multiple devices. The web-based mockup tool requires no experience or skills. It is super easy-to-use and the library of professional mockups never exhausts. Be it Technology mockups or Social media mockups, you can create everything with only a few clicks.
Smartmockups allows multiple upload options. You can upload your own image or video from a computer, use third-party integration, or grab a screenshot from the URL. Also, you can change the background, the color of the item, or crop the entire scene. The customization options are truly endless.
Once your mockup is ready, you can export the ultimate image in super-high 5K resolution in a few seconds with no limits. You can grab all plans for this amazing tool at 30% OFF.
Designcuts [LIVE]
OFFER: 40% OFF
OFFER VALIDITY: Until Nov 28
DesignCuts offer a variety of features ranging from Graphics, Templates to Fonts, and Add-ons. It would be a big success for a designer to get their hands on this asset at a highly discounted price.
During the Black Friday sale, they are offering a discount of up to 50%. The top quality products and an engaged community of creative artists make it one of the best Black Friday deals for designers.
Shutterstock [LIVE]
OFFER: 20% OFF
OFFER VALIDITY: Until Nov 30
Looking for best quality, royalty free stock images, photos, vectors, and illustrations? Shutterstock is your ultimate stop for it all with added benefits of footage, video, and music for nearly any application.
Shutterstock has a massive selection of stock footage and music to set the scene in your next short or feature film. Based on pixel data from millions of downloads worldwide, Shutterstock predicted the colors that will blow up next year. So if you grab the deal, you are set for 2021.
Shutterstock also offers a 30-day trial. You get 10 images for FREE and you can cancel anytime.
Envato Elements
OFFER: 50% OFF
OFFER VALIDITY: Until Nov 30
If you can get your hands on Envato Elements, you have everything you need to enhance your creativity. The deal includes unlimited downloads of stock videos, royalty-free music, photos, graphics, and graphic templates.
It lets you create mockups and has its own music library. Users get the benefit to import thousands of photos without leaving WordPress.
Skillshare [LIVE]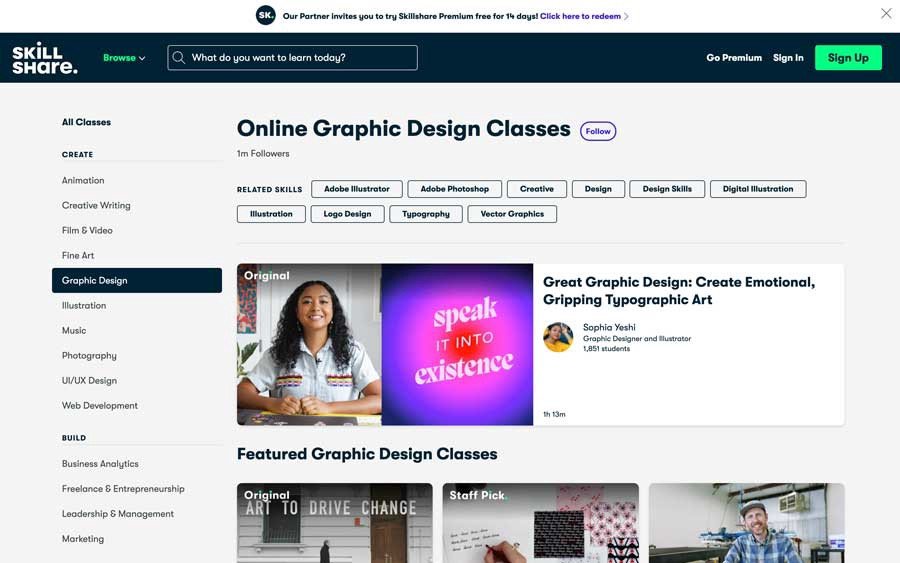 OFFER: 50% OFF
OFFER VALIDITY: Nov 30
Another one of the Black Friday deals for beginners where you get discounts on courses. What puts it in the league of best deals then? Skillshare enables you to explore and create real projects without disrupting your routine life.
You can easily fit Skillshare in your routine. No matter the time or place, you can take classes from anywhere with the Skillshare app. They also offer audio classes to enhance mindful creativity. You can download the videos to watch later at your ease.
MyFonts [LIVE]
OFFER: 60% OFF
OFFER VALIDITY: Until Nov 30
Need stunning but formal fonts for projects? MyFonts is your solution. It offers over 130,000 professional fonts. And they are always adding to the list.
Webflow
OFFER: 50% OFF
OFFER VALIDITY: Until Nov 30
With Webflow, you can build professional, custom websites in a completely visual canvas. This is certainly one of the best Black Friday deals for designers. Why?
Webflow does not offer a free trial. Instead, they allow you to keep building your site until you are ready to launch. Here comes the best part; for FREE. So you can experiment in as many ways you want for as long as you are not satisfied with your work.
Webflow comes with built-in SEO tools. It connects your marketing tools with built-in integrations and the flexibility of custom code.
Get Your Black Friday Deal
There are many apps and tools for designers. But the ones we have mentioned are the best of the best. And what better time to give a boost to your creativity than the Black Friday sale.
Black Friday deals for designers is a big opportunity for all the newbies and professionals. Most of the deals end by the end of November 2021. So you might want to act soon.