Are you trying to sell your stuff online or you have ever been in touch with digital marketing then probably you've heard the name of Clickfunnels. You may or may not be familiar with its name. That's why after deep research we have prepared Clickfunnels Review that'll be suitable for both beginners and experts.
You will find hundreds of reviews for Clickfunnels out there. However, we have tried our best to pen down the honest Clickfunnels Review. And here, we will go through many aspects of this software.
If you are ready to dive into the world of Clickfunnels then first read this post to the end. Because if you are reading this article then you are probably new to it or don't have proper knowledge of this software.
So, let's start our Clickfunnels Review now.
Clickfunnels-What, When & How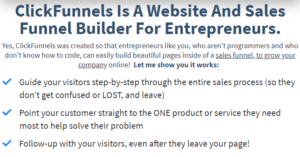 One question probably is striking in your mind that what Clickfunnels is actually? The answer is simple, 'it is a website/software and sales funnel builder for entrepreneurs'. In other words, Clickfunnels makes it easier for businesses and entrepreneurs to sell stuff online using key marketing techniques and that is by building sales funnels.
Meanwhile, it has its historical roots belonging to 2014. As Clickfunnels was created back then by Russell Brunson and Todd. That's the answer to your 'When'. And because of their vast efforts and amazing performance they have turned Clickfunnels into a $100 million a year business.
Besides, they have more than 142k active users currently. Moreover, ClickFunnels is an all-in-one marketing solution. It allows you to create landing pages, sales pages, payments pages, and manage the entire sales funnel with just a few clicks of a button. And that too with no coding skills.
In other words, this is a tool that is specifically focused around sales and created to build beautiful sales funnels and helps to convert your visitors into leads and then customers. This is an option through which online business owners whether small or large can scale their business to higher levels.
What Clickfunnels can do for you?
-Generate leads
Clickfunnels is a software/tool that helps you to create beautiful sales funnels quickly. And by creating simple yet beautiful funnels it can quickly capture your visitor's contact information. As a result generating new leads to follow-up with again and again, even after the visitor leaves your page.
Basically there are two ways in which people generate leads with Clickfunnels- Basic email or messenger leads(primary goal is to capture email address) and Longer form application leads(in which you will be getting a name, phone number, and more detailed information about the lead).
-Generate sales
As said earlier, Clickfunnels gives you the tools and strategies that you need to market and sell your product. It enables people to grow their business online through sales funnels. In the meantime, Clickfunnels uses three ways to generate sales online and those are mentioned below.
First is A two-step "tripwire" or "unboxing" funnel. It is generally for lower-priced products in which you can use 1-click upsells in the funnel to generate a profit.
Second is A sales letter or a video sales letter funnel. You can use this for the product which requires more explanation/presentation this also uses 1-click upsells to generate additional profit per customer.
And the third is A Launch Funnel. As the name suggests it is used for new product/service that is going to be launched. Its goal is to build up excitement for the launch.
-Enables you to run an online event
Whether you offer online courses or want to run an online event occasionally, using Clickfunnels as your marketing tool surely gonna help you a lot. Because you can run your online event with Clickfunnels as well and that is quite handy.
And there are two ways in which you can run the event with Clickfunnel. First is A live webinar using a 3rd party software like 'gotowebinar' or 'zoom'(customize the registration process and increase conversion and sales). And second is An automated, on-demand, evergreen webinar that is completely run on ClickFunnels(that uses funnel of its own to run the whole event).
Clickfunnels features-A quick overview
1.Easy drag and drop page builder
When it comes to building pages in a funnel it sometimes becomes quite complicated and difficult. But it is not a problem with Clickfunnels. You can easily design pages and make them look however you want with the help of Clickfunnels Drag & Drop Feature.
You will find pre-built templates for making sales pages, order pages, checkout pages, and more. In the first place, the Clickfunnels drag and drop feature helps save a lot of time and effort. You can use this feature to add images and texts to whatever place you want.
2.No coding or technical knowledge required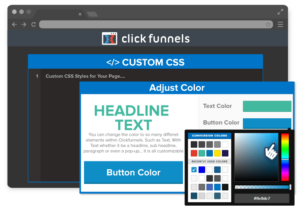 Don't have coding knowledge? Then don't you worry at all because Clickfunnels is there to take care of this issue. That is to say, you don't need to have any coding knowledge to build an impressive and catchy sales funnels on Clickfunnels.
There is already a wide range of funnel templates available on the platform. You only have to choose the desired one and edit it as per your needs. Along with this, if you have the coding knowledge then Clickfunnels gives you the option to build your sales funnels from scratch.
3.Split test setup
If you want to level up your online business then you need to ensure that your sales funnels perform well. And for that, you are likely to design several sales funnels and then compare them before finalizing one.
That's where Clickfunnels stands tall. With the help of ClickFunnels A/B testing, you can easily compare two funnel templates and decide which one is better. Not just that, this feature allows you to compare variants of your ads, landing pages, media pages, opt-in pages, and other elements of your marketing campaign.
4.Track your funnel stats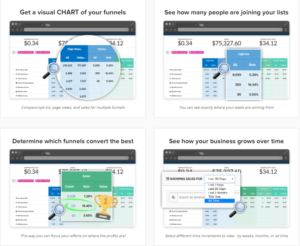 One of the nicest features of Clickfunnels is that it allows you to keep track of the funnel stats. With your Clickfunnels dashboard, you can quickly see how well your funnels are performing. Meanwhile, there won't be any kind of setup involved.
Because Clickfunnels will automatically track and report all of the necessary numbers on ONE easy-to-check page. There you will be able to get a visual chart of your funnel, can see exactly where your leads are coming from, how your business grows over time, etc.
5.Helps generate more sales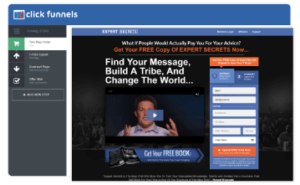 You know, what's the major challenging thing for online business owners? Turning potential leads into customers. Suppose you prepared an ad and placed that on social media. A potential client clicks on that ad and is directed to your site. Or if you are a seller on another platform like Amazon then the client will be directed to your Amazon store.
And if they are on Amazon then they might access your competitor's store as well. That results in the client end up purchasing the product from another store. That's where Clickfunnels helps you generate more sales by building strong performing sales funnels. With the help of that, you can turn your leads into potential customers. Firstly it aware the client about your company, then generate interest and then convince them. Eventually turning them into your potential customer.
6.Clickfunnels up-sell and down-sell feature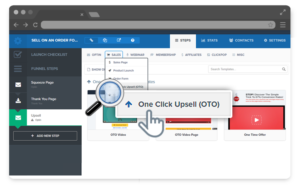 Clickfunnels One-Click Upsells feature can help increase your cart value by adding pages that offer your customer additional deals/offers. For instance, you provide some online training programs and the visitor is going to buy only one part of it then you can offer them the entire training program at a discount. Often, the visitor turned customer finds this a better deal.
And if they choose then you may roll up with a second Upsell that would be perhaps for a different but relatable course. Now if they decline the offer, then the Clickfunnels Downsell comes in action. It is a sale funnel that will direct them to a related product/service with a lower-priced offer. Consequently, making them reconsider their decision.
Clickfunnels pricing
So, here comes the price talk. Even though Clickfunnels is really a good software/platform to grow your online business, it isn't a cheap option either. Clickfunnels comes with three pricing plans: Clickfunnels, Clickfunnels Platinum, and Clickfunnels Collective.
The lowest pricing plan will cost you $97/month which is of Clickfunnels' basic plan. The Clickfunnels Platinum plan is going to cost you $297/month, and the ClickFunnels Collective plan which is the most expensive pricing plan costs $1,497/month. What you will get in the respective packages are mentioned below-
-ClickFunnels (Standard Pricing Plan)
up to 20 funnels
100 pages
1 user
integrate with 3 payment gateways
3 domains.
-ClickFunnels Platinum
Unlimited funnels
Unlimited pages
3 users
integrate 9 payment gateways
connect 9 domains
Follow-up Funnels
Integrated affiliate program
FunnelFlix free access
-ClickFunnels Collective
Unlimited funnels
Unlimited pages
10 users
integrate 27 payment gateways
connect 27 domains
Follow-up Funnels
Integrated affiliate program
FunnelFlix free access
Click on the image to enlarge

Clickfunnels Free Trial
Along with some exclusive pricing plans, Clickfunnels also offers 14 Days Free Trial. This is a great option as you can try out all the features that ClickFunnels has to offer and decide whether you have to go with it or not. And you will be able to cancel your account at any time within the period without any penalties or fees.
Besides, you are gonna get access to a huge amount of bonuses and training as well. Simply click on the below picture and start your 14 days Free Trial now.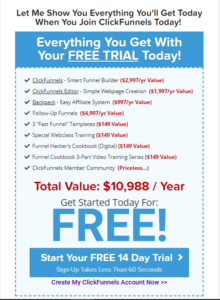 Final words
Nothing in the world is perfect that's why Clikcfunnels also has some drawbacks as well like it is highly-priced. Although it's not absolutely perfect, it performs well for what it is known for.
It comes equipped with all the necessary tools that are required to convert a visitor into a paying customer. Besides, you won't only get to build sales funnels but also get all the tools and training for how to grow your business online. Clickfunnels is definitely not a cheap option.
But it is kinda worth investing considering the fact that how much revenue you can make with sale funnels. In short, Clickfunnels turns out well in its core objective:'Enabling People To Grow Their Companies Through Sales Funnels', by making it easier for you to generate traffic and reach higher conversion rates.
So, this was our honest Clickfunnels review. Tells us what do you think about Clickfunnels after reading this article. And if you have any questions or found anything missing then share your thoughts in the comment section below.