Ready to get your hands on one of the exciting Black Friday Deals 2021? You might want to take a look at the amazing deal SEMrush-one of the top SEO tools- is offering.
SEMrush accumulates and processes large volumes of data to provide its clients with the best product. It is a great company with 10 years of experience and 6 offices in two continents. SEMrush claims to serve around 6 million users, big and small names included.
The SEO tool identifies competitors' best-performing marketing channels to scale up your efficiency. With SEMrush, you can efficiently reach a new market, based on audience interests, demographics, and overlap. It helps in finding growth opportunities in current and potential markets.
SEMrush Black Friday Deal In A Nutshell
1. 50% Off On An Additional User + SEMrush PRO Subscription
2. Save 35% on the SEMrush Bundle for Agencies
SEMrush PRO + Agency Growth Kit + additional user costs $199 instead of $269.
SEMrush Black Friday Deal
This Black Friday season, SEMrush has 3 stunning offers live.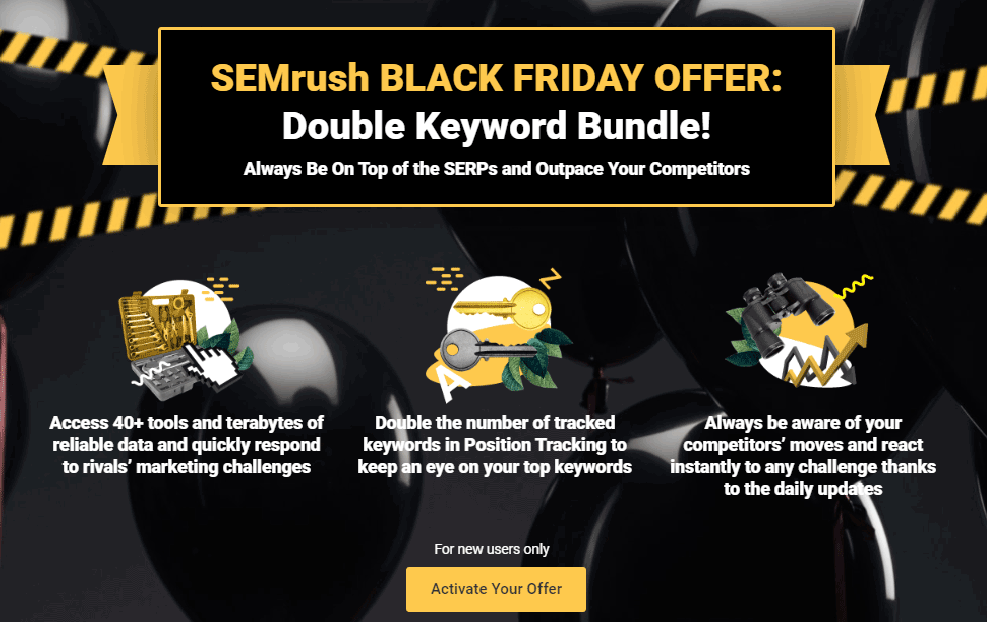 Here are the 3 limited-time deals from SEMrush:
1. Double Keyword Bundle Offer:
SEMrush is offering PRO subscriptions with over 40 robust tools. The offer includes free 500 additional keywords to track in Position Tracking which would otherwise have cost you $60. And you get all this at just $99.95 a month.
2. Content Marketing Platform Deal:
This deal will give you access to a monthly GURU subscription. You get full access to the Content Marketing Platform. It comes with 2 free articles from SEMrush Content Marketplace which would otherwise have cost you $140. All this at just $199.95!
3. SEMrush Competitive Research bundle- 30% Discount on the annual plan:
This super deal has 40+ tools for competitive research along with exclusive CI add-on (Market Explorer, Traffic Analytics). You get a SEMrush PRO subscription for just $2,519.58 which would otherwise have cost you $3,599.40.
SEMrush Pricing and Plans
The SEO tool offers 3 plans:
1. Pro
SEMrush Pro is for freelancers, startups and in-house marketers with limited budgets. It costs $99 and comes with many useful features. You can run your SEO, PPC and SMM projects with 40+ advanced tools. PRO lets you know your competitors' traffic sources, rankings, social media results & more.
2. Guru
SEMrush Guru is for SMB and growing marketing agencies. Priced at $199, it spans over all the features of PRO plus some exciting additions such as Content Marketing Platform, Branded reports, Historical Data, and Extended limits.
3. Business
SEMrush Business is for agencies, E-commerce projects and businesses with extensive web presence. Priced at $399 it includes all the GURU features plus some extras such as White label reports, API access, Extended limits and sharing options, and Google Data Studio Integration.
Reasons to Grab the Deal
SEMrush audits your site to correct meta information and make your content unique. You can get backlink ideas and research keywords and borrow them from competitors.
1.Competitive Advantage with SEMrush
SEMrush provides a comprehensive solution to inform your marketing strategy and outperform the competition. It reveals the most popular products, services, and content your competitors rely on.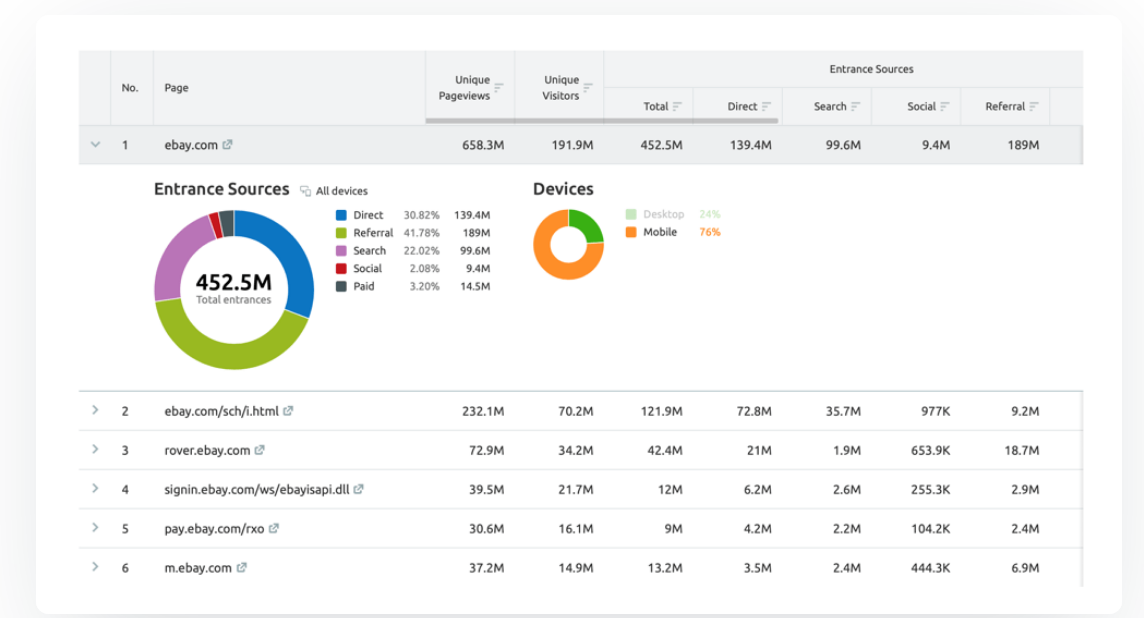 You can analyze your competitors' traffic and keyword strategies, ads, content, and social media. It checks audience overlap and widens your network. SEMrush analyzes & reports on any market or industry in 190 countries and regions.
With this SEO tool, you can plan smarter strategies, based on competitors' positioning and marketing mix.
2. Plethora of Keywords
The more keywords available for your keyword research, the more ideas you can get to enrich your SEO and PPC campaigns. SEMrush has the largest keyword database on the market exceeding 20 billion. That means you get over 20 million keyword ideas.
The SEO tool lets you segment your terms by topic and perform a detailed analysis of collected keywords to pick the best ones. You can get phrase matches and related keywords and also explore multinational and multilingual environments
SEMrush gives you the choice to pick the best keywords and save them in Keyword Manager. You can create up to 50 target keyword lists. There is a feature to compare keyword portfolios and track keyword performance.
3. Take your ad campaigns to the next level
With SEMrush, you get to explore PLA copies and the keywords triggering them. You can create ad text directly in the SEMrush interface and cross-match negative keywords to stay on budget.
SEMrush features let you pick the most profitable niches with CPC Map and analyze successful publishers with Display Advertising.
With the SEMrush Display Advertising reports, you can estimate how other companies effectively build display ads and discover the top publishers and advertisers. By analyzing the data provided by SEMrush you can create an informed advertising strategy to raise awareness of your brand in your target audience and ensure your money is being spent wisely.
You also get the following benefits:
Analyze сompetitor ad budgets and keywords

Monitor ad copy and landing pages

Discover New Competitors in Google Ads

Localize Your Ad Campaigns

Get an overview of your competitors' GDN strategies

Analyze competitors' display ads

Spot new publishers

View display ads from different devices

Target the right audience with Audience Insights
4. Build your most effective social media strategy
SEMrush takes care of your brand reputation by monitoring and responding to customer reviews in a timely manner. It finds topics that people search and content ideas for your site. With Social Media Tracker, you can uncover competitor analysis to create a winning strategy.
Social Media Poster lets you post to all of your social accounts from one place. You can also schedule posts and manage your queues. Brand Monitoring monitors your brand reputation. It can save you a lot of time.
You will have round-the-clock social content across all social networks. SEMrush has many social automation features like UTM builder, link shortener, image editor with a chrome extension.
5. Analysis of any website traffic and Domain Analytics
Traffic Analytics analyzes your competitors, evaluates potential partners, finds data on your prospects for presale, or even quickly estimates the capacity of new markets.
You can discover websites' audiences, traffic sources, geo, and visitor behaviour, borrow best practices and make data-driven decisions. Your insights will be based on petabytes of processed global data.
Domain Analytics offers extensive data and a range of reports that can help you gain the most comprehensive competitive intelligence and complete your SEO and PPC tasks.
SEMrush allows you to get a clear picture of your backlink profile. The SEO tool collects new backlinks on a daily basis and adds them to its database, which is updated publicly every two weeks. It means you can keep track of any new or lost backlinks within no more than two weeks of them being created or removed.
Check the best web hosting Black Friday deals 2021 


HURRY! Don't Miss out On The Deal
SEMrush provides a comprehensive solution to inform your marketing strategy and outperform the competition. The SEO tool makes sure you excel at your everyday marketing tasks. It helps build, manage, and measure your campaigns across all online channels with simple hands-on guides.
SEMrush has solutions for all digital marketers in a single place. It is one of the best tools for keyword research. If you are in need of a deeper, wider, or industry-specific database, this is the solution.
Grab the deal to launch global campaigns for your website and get all the necessary metrics regarding its competitors, keyword rankings, and on-page health from one place. And all that on a heavily discounted price.